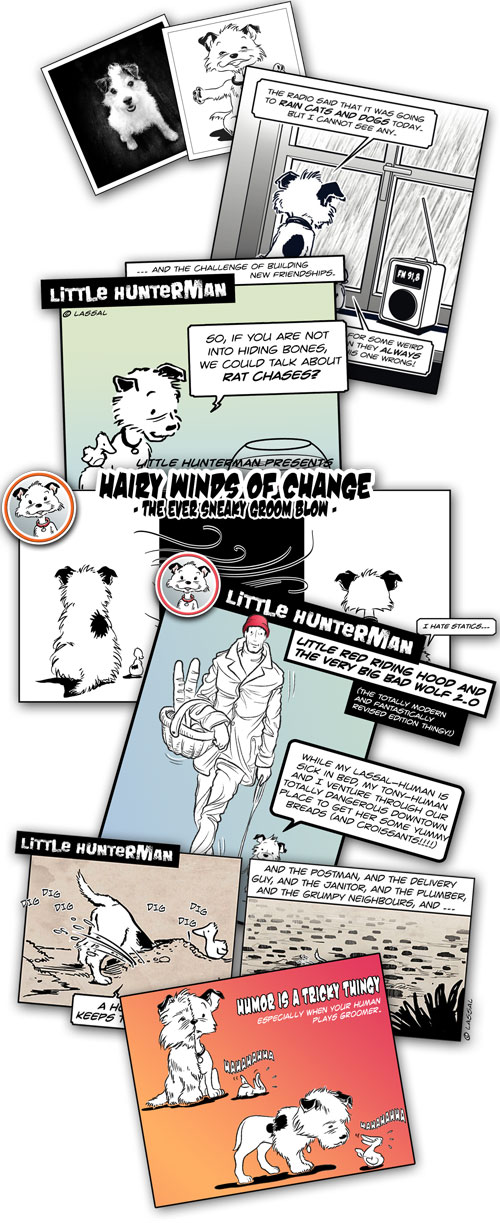 CORONA-THINGY UPDATE
Unfortunately, it did strike at my home place and everyone BUT ME AND MY HUMAN GRANDPARENTS were sick!
Thankfully, so far, everyone managed to dig themselves out of this scary mudhole. And even though my Lassal-human turned out to be a (mostly silent) long-howler, I think I can start nagging her about the next cartoon wees pretty soon. 
Sorry for the interruption, but I'm really bad at drawing. I tried, really, but Flynn did not approve of the results. (I admit I gave him long ears in my first drawing, but isn't that what the "artistic freedom" thingy is all about??????)  

COOL, FREE, Every Monday:
START YOUR WEEK WITH THE RIGHT WEES
All of my fantastical wee-mail subscribers (= subscribers to the Little Hunterman newsletter) get my fantastical Monday cartoon wee to start the week with a little doggie help!
And by letting my doggie comrades wee-mail me back, so we can figure out how to best live and love our humans, you have a real chance to get mentioned in the next Little Hunterman book –– because that is where most of these wees will end up in. 
The Monday Cartoon Wees will only be available for my wee-mail subscriber friends – because my friends are super-awesome!

As a wee-mail friend, you'll also get:
Preview of the extra Little Hunterman art-walk pictures
The Total Introduction Thingy (PDF) that was added to my book at a later stage

Early rubber duck prices whenever we finish something 

Stuff my human does not allow me to post on the social media place

Much extra love and nose-nudges!
Enter your email, click the fantastically beautiful orange button, then check your inbox-place for the confirmation-wee. 
Next you'll get my very special welcome cartoon wees, and after that you'll start getting the current weekly Monday Cartoons.

Totally COOLEST, right? 
(It would be even cooler if you'd send me a croissant… I  never get enough, you know?)