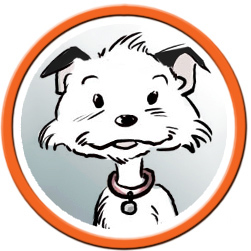 Instead of doing a new cartoon, Lassal sat on our rooftop today to contemplate my possible future.
(That IS scary! Not the rooftop, but all the rest about this sentence)
Catch 22.
Tomorrow starts a new client assignment.
1 week.
No time for cartoons.
Catch 22.
So how to get out of this stupid catch22 corner?
She'll start an experiment with a Little Hunterman serialization next month
and she could use your honest opinions when the time arrives.
Today, on the roof, she came up with the possible first 3 "episodes".
But she does not know it you will like this.
It is a mix of text and cartoon – at least so far it is.
But it is NOT going to be a whole book.
A whole illustrated book would take many months of free time without anything else going on.
Instead, it is going to be more like a chapter of a book per month.
Think "Croissant tree". You know?
The whole story in one go.
And then, maybe at the end of the year, by adding the chapters we'd have a whole book?!
In THEORY it sounds ok.
But what about the practical side?
Lassal thinks it is not a good idea to put the test-chapter-text up here officially,
but EVERYONE of my Friends & Comrades who wants to read it and comment on it, would get it send via eMail.
And then Lassal and Flynn and I would wait for your responses and opinions and evaluate and see if that would be a way to go.
Maybe it will not work.
Maybe we will need to come up with yet another approach.
It is a test.
But once that's figured out, we'll also figure out a way to have my active Friends here get it for free.
Because the other alternative would be for Lassal to become a professional cartoonist
or start syndicating or keep doing reruns after reruns after reruns (too many of those already).
---
So, if you are interested in being one of my chapter-BETA-readers and deciding upon my fate,
Lassal is going to put up something where you can sign in to leave your email so she can send the text.
Or simply use the form below.
#dogs #reruns #changes