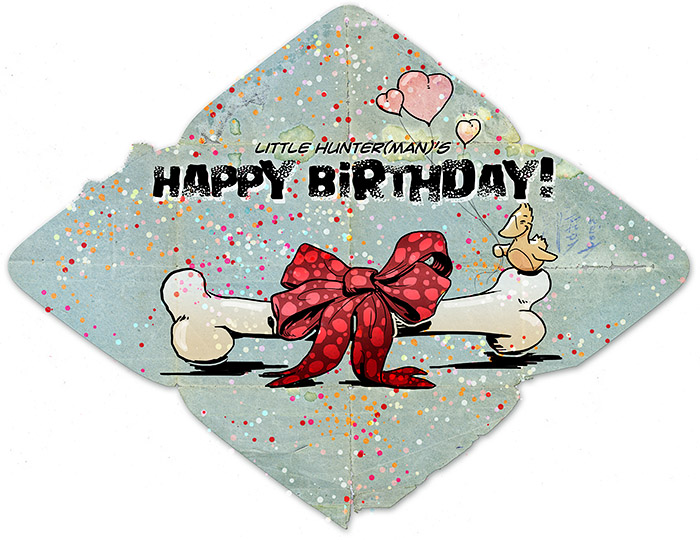 Happy Birthday to me.
Happy Birthday to me.
Happy Birthday, dear Hunteeeeer (no -man)
Happy Birthday to MEEEEEEE!
… to the REAL me, this time.
Poor guy only gets a bone while I got a buttery croissant.
Sometimes it just pays to be a cartoon doggie.
Oh, and in case you are wondering why we have everything on used paper … That's a Flynn thing. Recycling. It was his condition to play along. I've explained it in the book but it will take some time until we reach that page.
---
Midnight now. Real doggies need to go to bed. I'm gonna stay awake and guard the presents. 

We'll post a pic tomorrow.
---
A couple of sleepy hours later:
Now it is here. Now it is gone.
It must have run somewhere, it was "rabbit" after all …
Dang.
When is dinner time again??
I love baby toys. They are soft and they are squeaky.
I thought Lassal made my day.
Little did I know.
---
Friend Nancy's Present

My baby toys were quickly forgotten.
Who would blame me?!
Veni.
Vidi.
Vici!
Wich include this super neat macho gunslinger costume!